A Custom Golf Cart Will Be
The Envy of Your Friends
It wasn't too many years ago that having a custom golf cart was very uncommon. Today there are many companies that specialize in creating a cart that is tailored precisely to their customer's specifications. It doesn't matter whether you are looking for minor upgrades like custom rims or something more involved like a supped up engine with air-conditioning it is available. Customization of a golf cart is the best way to make sure that you have all of the creature comforts you could imagine.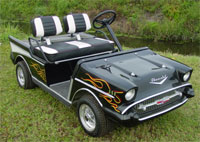 Envision your very own cart with a 7.5 horsepower General Electric engine with upgraded 6 volt batteries to new 8 volt batteries and an on-board computer that will communicate with the new 48 volt charger. Now you can cruise down the street to the first tee at over 30mph. In some states these customized carts are street legal which can be a real convenience.
There are numerous other ways to enhance your personal golf cart in order to make your day on the links more enjoyable. Everything from sheepskin seat covers to custom fit carpeting. Some other popular accessories include stereo systems that feature XM satellite radio and sub-woofer that fits conveniently into the sweater basket. Also in very hot climates air-conditioning is a great feature as is a cooler or small fridge to house your favorite beverage. In most cases finding the options that suit your personal needs will be easy to locate. Good luck in your quest for the cart of your dreams!





Return From Custom Golf Cart to Golf Carts