Golf Carts That Suit Your Needs Come In Many Different Packages
Golf carts are available
everywhere you look it seems. It can take all the fun out of buying one if you get too bogged down with all of the specs.
With the increase in the number of rounds of golf being played today more and more courses are requiring that players use one to speed up play.
Not only are courses trying to reduce the length of time that each group takes but they are also increasing the overall revenue for the club by owning or leasing a large fleet. If you play the game on a regular basis it would be a good idea exploring the possibility of buying a used one or if a little more luxury is your style maybe a customized cart.
Some courses still allow players to walk if they want the exercise. Walking a golf course is also more social as you have an opportunity to talk with all of the members of your group. If the thought of carrying your clubs makes you tired then using a golf pull cart is the best way to go. On days where the weather is unsettled, or you are feeling a little weary from 18 holes the day before, you can still opt for renting when the need arises.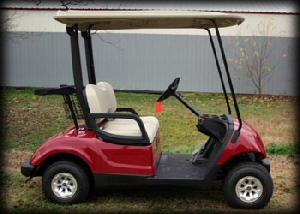 There are many options available on power carts if you are willing to do the research online. When it comes to the customizing options they are as plentiful as on most cars.
You can choose from air conditioning, stereo systems, mini refrigerators and even GPS! Some of the companies making the golf carts are Ez Go, Yamaha and Harley Davidson.
When looking on the internet it is also easy to find places to buy a part, like a cart cover or lift kit. Whether you decide to buy new or used the internet should provide you with all the necessary information.



Custom Cart Bodies
Offer so many choices. Everything from a Cadillac Escalade to a Corvette. Have a look at what options and styles are available now.


Bag Boy Navigator
is not just any old trolley. This mean machine has so many fabulous features you'll wonder why it took you so long to spring for one!


The Sky Caddie SG4 can bring your game into the 21st century
Having one of these little toys in your pocket when you are playing will make the game more fun and improve your scores.


A Custom Cart
Has the time come to upgrade the old Ez-Go for a fantastic cart with all the bells and whistles?


8 Volt Golf Cart Batteries
Make a world of difference in the performance of your cart.


Golf Cart Body Kits
If you are looking for a change from the old cart or would like to jazz up that plain EZ-Go or Yamaha have a peek at all of the choices.


Hummer Golf Cart
The Ultimate machine for chasing over hill and dale for the ever errant golf ball.


Why A Storage Cover?
Not only does a golf cart storage cover protect your investment from the elements but it will also keep it looking like it just rolled off the assembly line.


A Hunting Cart Is Highly Versatile
Even if you are not a hunter you may find some of the conversions will allow you to use your cart for many different applications. If you hunt as well, then have a look at why some of the options will add to your passion.


A Used Electric Golf Cart
Will save you lots of cash...if you know where to look! Join us as we check out where to go and what to consider.


Return From Golf Carts To Home