Golf Cart Body Kits
Are An Easy Change
Finding golf cart body kits is
easy.
Finding one that suits
your
style, fits your
budget
and is made to fit your cart can be a little more challenging.
Most kits are made from light weight durable thermal plastic and are pre-fitted to bolt quickly and easily to your body chassis.
The largest variety of body kits are made for EZ-Go, Club-Car and Yamaha chassis.
If you are mechanically inclined and have an interest in doing a custom golf cart conversion on your own we found a fun weekend project. Why not see if you can transform an old cart into a beautiful miniature 1957 Chevy Bel Air.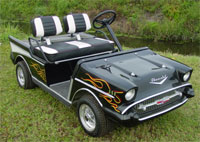 To accomplish a project like this you will need fiberglass body panels, custom-covered seats, chrome wheels, new tires, body decals, 3/4" driver drill, grease gun, wire strippers, hole-saw, lighting components and metal shears.


Although this cart makeover is relatively straightforward it does take someone with some body work experience as well as the ability to do some electrical re-wiring and work with batteries. They gave a rating of 3/5 on the difficulty scale.
If you would prefer to purchase a completed cart body kit you should deal with a company that has many years of experience and knowledge of the variables involved.
A couple of our favorite companies and most highly recommended in the industry are Buggies Unlimited and LA Concept Cars.







Return From Golf Cart Body Kits To Golf Carts