A Golf Cart Storage Cover
Is Cheap Maintenance
So you think a golf cart storage cover is in order to protect your cart for the off season this year but you don't have a clue what your options are.
Well we have a few suggestions that might reduce your choices down to a manageable level.
The basic cover will protect your cart from the elements.

If you aren't able to store your cart inside choosing the most protective cover will pay for itself many times over.

Over time the sun... rain... wind... sand and temperature change will take a heavy toll on your cart....


causing body fading and seat staining or cracking.
Find a cover that

won't stretch or shrink.....


Is made from 210D polyester...


Water resistant and UV resistant.....


And has double stitched seams with marine-grade thread.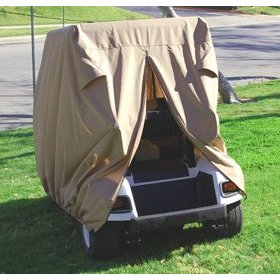 A few other features to look for are....
rear vents which reduce wind lofting and inside moisture....
a convenient stuff sack for storage when not in use....
a rear zipper which enables easy installation and entry....


Most of the golf cart covers come with a one-year warrantywhether you choose a Club Car cover, Classic golf car cover, or a premium SafeGuard cover.

In some cases you may want to consider buying a golf cart enclosure that can serve a dual purpose.

An enclosure is a cart cover that has clear plastic siding with zippered doors. It is a great cart accessory to not only keep you warm on a cool day but also protect your cart from the weather.

Take a close look at the variety of options available and make the choice that will best suit your needs.






Return From Golf Cart Storage Cover