The Bag Boy Navigator
Is The Real Deal
The next time you play a game with your new
Bag Boy Navigator
your heart will thank you for not purchasing a
power cart.
If you have been considering the purchase of an electric golf cart but are still wanting to get your exercise on the golf course a remote controlled
golf cart
may offer the you the best of both worlds.
The Navigator is a Bag Boy golf cart which has a very good reputation as well as a comprehensive list of options. There is an on-board compass that understands both tilt angles and directional readings in order to keep the cart not only going straight but also keeps it upright.
It also comes
equipped
with a retractable 4th wheel to assist with stabilization on uneven ground. The remote control works at a distance of up to 200 yards and keeps in constant contact with the cart's
remote transmitter
heartbeat. In the off chance that the two lose contact the cart will immediately stop in order to prevent the possibility of a runaway.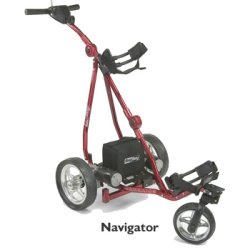 The 2006 model has a reverse feature that allows the operator to back the unit out of a tight situation with the touch of a button. There is also a new 5 level battery indicator button that has been integrated into the 2006 model so you can keep your attention on your golf game.
The Navigator has a one-piece frame that folds down quickly for convenient storage and ease of loading and unloading from a trunk.
Have a look at some of the other carts available like the Robokaddy by Powakaddy or the Dyna-Steer MX9 from Lectronic Kaddy before making a final decision.





Return From Bag Boy Navigator To Golf Carts